On August 14th, 2010 I set out on a mission. A mission to meet Steve Martin in 1 year. Coincidently 6 months into my trek, he announced he'd return to Oklahoma on his banjo tour with the Steep Canyon Rangers. This would be the first time he performed here in 35 years. I took note and contacted the wonderful Tulsa Performing Arts Center Trust who allowed me to help advertise his return to the sooner state.
I produced a commercial:

Then a series of 'crashing the news' started on and off for a month:

I even got the American Banjo Museum on board:

After months of work and years of failed attempts I met him on August 24th.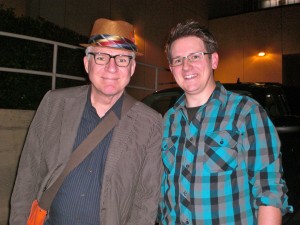 Missing my goal by 10 days.